Welcome to the Official Site for Isabella Cuda. You may recognize Isabella from one of her appearances on series such as Criminal Minds, Sam & Cat, Glee, or her role in the film Eternal Salvation. Here you will find all of the latest news and up to date information about this talented young actress. For Industry Professionals looking to learn more about Isabella, please click on her name above for an overview of information.


NEWS & UPDATES
31 May 2018
Lycanthropy
Isabella plays the role of
Young Leslie
in the short film
Lycanthropy
and it has now been released! She appears in
two
scenes as Leslie spends time with her dog happy and playing, but then things get rough as the dog is about to be taken away from her. She is understandably upset by this as she holds onto her dog, keeping her close and trying to stop it from happening. Make sure to have a Kleenex box close by as Isabella gives quite the powerful and emotional performance in this scene and you can view it in the
media section
!

Posted by: Lisa
02 Apr 2018
San Diego Film Week
Last month Isabella attended
San Diego Film Week
! Spanning over the course of several days she was in attendance for
two
of the evenings walking the red carpet and celebrating her films. The first night was about
Capri Sunday
and she was nominated in the
Best Child Actor
category for her work in the short film, and the second night she was not only out to represent Capri Sunday, but also
Irreconcilable Devices
. She had a wonderful time both days posing for pictures, catching up with those she's worked with and images can be found in the gallery.

Posted by: Lisa
25 Dec 2017
Happy Holidays!
The magic of Christmas is everywhere this holiday season and Isabella has been enjoying every moment of getting ready for the holidays. From shopping and wrapping presents, to decorating and singing carols there has been a lot to do and now it is
Christmas Day
! Presents to open, meals to enjoy and most importantly...time with family make this quite a special holiday. Isabella would like to wish everyone a
Happy Holidays
and all the best in 2018, it is going to be a fantastic year!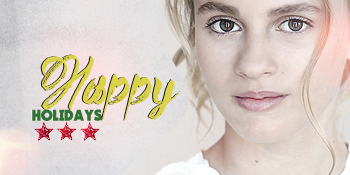 Posted by: Lisa
<< Previous 1 2 3 4 5 6 7 8 9 Next >>